Författare:
Kroski Ellyssa
Titel:
Law Librarianship in the Digital Age
Utgivningsår:
2013
Omfång:
532 sid.
Förlag:
Scarecrow Press
ISBN:
9780810888050
Produkttyp:
Inbunden
Ämnesord:
IT-rätt , Övrigt

---
Pris: 884 SEK exkl. moms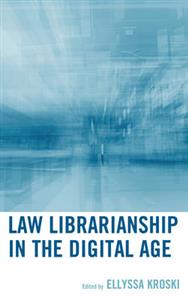 It is absolutely essential that today's law librarians are digitally literate in addition to possessing an understanding and awareness of recent advancements and trends in information technology as they pertain to the library field. Law Libraries in the Digital Age offers a one-stop, comprehensive guide to achieving both of those goals.

This go-to resource covers the most cutting-edge developments that face today's modern law libraries, including e-Books, mobile device management, Web scale discovery, cloud computing, social software, and much more. These critical issues and concepts are approached from the perspective of tech-savvy library leaders who each discuss how forward-thinking libraries are tackling such traditional library practices as reference, collection development, technical services, and administration in this new "digital age."

Each chapter explores the key concepts and issues that are currently being discussed at major law library conferences and events today and looks ahead to what's on the horizon for law libraries in the future. Chapters have been written by the field's top innovators from all areas of legal librarianship, including academic, government, and private law libraries, who have strived to provide inspiration and guidance to tomorrow's law library leaders.