Författare:
van Hoboken Joris
Titel:
Search Engine Freedom � On the Implications of the Right to Freedom of Expression for the Legal Governance of Web Search Engines
Utgivningsår:
2012
Omfång:
432 sid.
Förlag:
Kluwer
ISBN:
9789041141286
Produkttyp:
Inbunden
Ämnesord:
Offentlig rätt , IT-rätt

---
Pris: 1767 SEK exkl. moms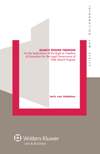 In this book, the author explores how search media can be incorporated into freedom of expression doctrine, as well as media and communications law and policy more generally. And the book develops a theory of the legal relations between national governments and search media providers on the one hand and between end-users and information providers on the other. Among the many issues covered are the following:

-role of government under the right to freedom of expression;
-lack of transparency about the ranking and selection of search results;
-search engine and ISP intermediary liability;
-filtering by access providers;
-freedom of expression and the governance of public libraries;
-the search engine market, its business model and the separation rule for advertising;
-search engine self-regulation;
-user profiling and personalization;
-decisions and actions for which search engines should be able to claim protection.

The analysis draws on specific legal developments under Article 10 of the European Convention on Human Rights and the United States First Amendment, and investigates issues of diversity, pluralism, and freedom of expression as they relate to editorial control in other media. The author concludes with recommendations regarding search engine governance and the proper role of government, indicating which existing elements of the regulatory framework for search media can be improved and offering directions for future legal and empirical research.

Considering the ever-growing cultural, political, and economic importance of the Internet and the World Wide Web in our societies, and the societal interests involved in the availability of effective search tools, this first in-depth legal analysis of search engine freedom will prove indispensable to the many practitioners and policymakers concerned with freedom of expression in the digital age.

Contents:
-Introduction.
-A Short History of Search Engines and Related Market Developments.
-Web Search Engines in the Public Networked Information Environment.
-The Right to Freedom of Expression.
-Press Freedom.
-ISP Freedom.
-Library Freedom.
-Search Engine Freedom.
-Search Engine Access: Content Regulation and Intermediary Liability.
-Search Engine Quality: Pluralism, Bias, Transparency and User Surveillance.
Summary, Analysis and Conclusions. References.