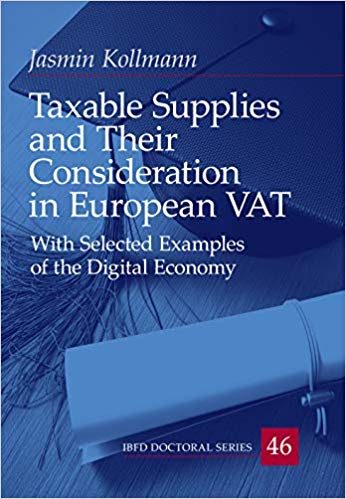 The current economy is changing. Not only the intensively researched phenomenon of globalization but also digitalization, as well as Information and Communication Technology, is becoming more and more influential. As a result, completely new business models based on technology have emerged. However, ensuring effective taxation of the digital economy presents challenges, one of the major concerns being how to administer the VAT system for digital transactions. Nevertheless, before answering how VAT should be applied in the digital economy, the question must be posed whether specific transactions through virtual channels should be subject to VAT at all.

This book provides an analysis of the application of basic concepts of the present European VAT system to transactions in the digital economy, therefore aiming to measure how well or poorly these transactions are captured. It examines whether the current VAT system has any impact on the growth of the digital economy, i.e. whether it stimulates or hinders digital transactions. Furthermore, by comparing transactions in the digital economy with transactions in the traditional economy, potential privileges or discriminations can be underlined.

Finally, the book tackles the important issue of assessing whether amendments to the current rules are necessary to deal with the challenges of the digital economy. To answer this question, the author takes into account the development of jurisprudence by the Court of Justice of the European Union and relevant literature in this field. Winner of the 2018 Maurice Lauré Prize awarded by the International Fiscal Association (IFA).