Titel:
EU General Data Protection Regulation (GDPR) � An Implementation and Compliance Guide
Upplaga:
3 uppl.
Utgivningsår:
2019
Omfång:
406 sid.
Förlag:
IT Governance
ISBN:
9781787781917
Ämnesord:
Offentlig rätt , EU-rätt , IT-rätt

---
Pris: 394 SEK exkl. moms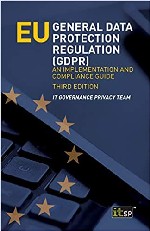 Understand your GDPR obligations and prioritise the steps you need to take to comply.

All organisations – wherever they are in the world – that process the personal data of EU residents must comply with the GDPR (General Data Protection Regulation). Failure to do so could cost them up to €20 million or 4% of annual global turnover in fines, whichever is greater.

Now in its third edition, EU GDPR – An Implementation and Compliance Guide is a clear and comprehensive book providing detailed commentary on the Regulation.

Read this book to learn about:

The purpose of the GDPR and its key definitions;
The DPO (data protection officer) role, including whether you need one and what they should do;
Risk management and DPIAs (data protection impact assessments), including how, when and why to conduct one;
Data subjects' rights, including consent and the withdrawal of consent, DSARs (data subject access requests) and how to handle them, and data controllers and processors' obligations;
International data transfers to 'third countries', including guidance on adequacy decisions and appropriate safeguards, the EU-US Privacy Shield, international organisations, limited transfers and Cloud providers; and
How to adjust your data protection processes to comply with the GDPR, and the best way of demonstrating that compliance.
This guide is a perfect companion for anyone managing a GDPR compliance project. It explains the changes you need to make to your data protection and information security regimes and tells you exactly what you need to do to avoid severe financial penalties.