Författare:
Hilling Maria
Titel:
Free Movement and Tax Treaties in the Internal Market
Anmärkning:
Avhandlingen har tidigare sålts av Jönköping International Business School i en annan utgåva.
Utgivningsår:
2005
Omfång:
370 sid.
Förlag:
Iustus
ISBN:
9176785971
Typ av verk:
Akademisk avhandling
Ämnesord:
Skatterätt , EU-rätt

---
Pris: 960 SEK exkl. moms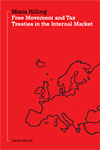 Att EG-domstolens tolkning av reglerna om fri rörlighet påverkar medlemsstaternas nationella inkomstskattesystem är välkänt. Men hur påverkar dessa regler ingångna skatteavtal på den inre marknaden? I boken analyseras denna fråga med utgångspunkt i EG-domstolens praxis. Boken innehåller även en principiell analys av huruvida det existerar en mest gynnad nations-princip i EG-rätten samt möjliga konsekvenser av en sådan princip för medlemsstaternas skatteavtalsnät.

*****

This book deals with the impact of the free movement rules in the EC Treaty on tax treaties in the internal market. This is a highly relevant issue since a provision in breach of the free movement rules is inapplicable. The potential far-reaching consequences following the preclusion of tax treaty provisions makes it important for taxpayers and governments of the Member States of the EU to predict when a provision in a tax treaty may be in conflict with free movement law.

This book identifies the rights and obligations stemming from the free movement rules. As they are not very detailed, the case law is crucial. Hence, this book includes extensive case law studies, focusing primarily on cases where the Court of Justice of the European Communities (ECJ) has interpreted the free movement rules in relation to tax treaty provisions and unilateral income tax legislation. This study provides a systematization of such case law, highlighting consistencies and inconsistencies.

Furthermore, whether the free movement provisions prescribe a most-favoured-nation treatment is examined. This is relevant to this study as an answer in the affirmative could have a considerable impact on tax treaties concluded between EU Member States.

Free Movement and Tax Treaties in the Internal Market has been defended as a doctoral dissertation at Jönköping International Business School. The author is assistant professor of tax law at Linköping University.