Titel:
SOU 2019:54 Inequality and Economic Performance. – Betänkande. Bilaga 4 till Långtidsutredningen
Utgivningsår:
2020
Omfång:
160 sid.
Förlag:
Norstedts Juridik
ISBN:
9789138249918
Typ av verk:
Statlig utredning
Serie:
SOU, Statens offentliga utredningar nr. 2019:54
Ämnesord:
Ekonomi

---
Pris: 233 SEK exkl. moms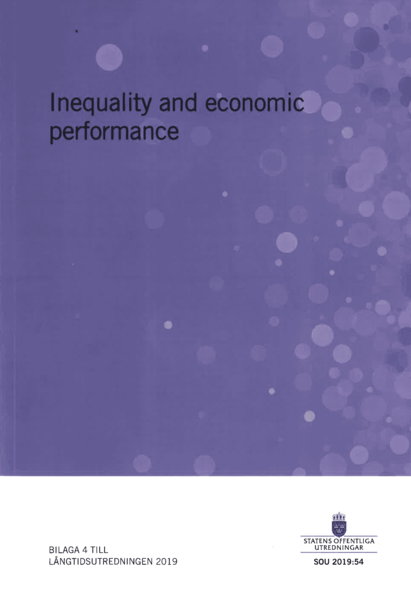 Upward trending income inequality has spurred a discussion on the underlying causes, and the consequences for economic performance and social cohesion more broadly. The key question debated is whether inequality is good or bad for economic performance. This report gives a comprehensive review of the literature on the nexus between inequality and economic performance.

Compiled by: Torben M. Andersen

Innehåller en omfattande genomgång av litteraturen om sambandet mellan jämlikhet och ekonomisk tillväxt, och tar sin utgångspunkt i en diskussion om begreppen rättvisa i allmänhet och lika möjligheter i synnerhet, samt hur dessa begrepp fångas i de vanligaste måtten på inkomstspridning.