Pris: 763 SEK exkl. moms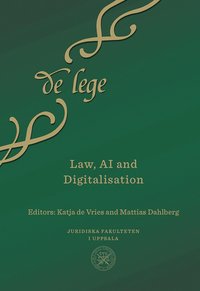 Artificial Intelligence (AI) is everywhere – but what is AI? This volume of De lege includes articles by scholars on a wide range of subjects, all dealing with AI and the digitalisation of society. Some of the authors have dealt with AI and digitalisation for a long time, others are specialists in other fields of law and have, in this volume, turned their focus on these matters.

The book is divided into three different parts, all dealing with subjects related to law, AI and digitalisation:

- AI, digitalisation and law: foundational explorations

- Challenges posed by AI and digitalisation to particular fields of law

- AI and digitalisation in practice: legal perspectives

Contributing authors: Vladimir Bastidas Venegas, Silvia A. Carretta, Anni Carlsson, Liane Colonna, Mattias Dahlberg, Bruno Debaenst, Bengt Domeij, Johan Eddebo, Katarina Fast Lappalainen, Stanley Greenstein, Mikael Hansson, Charlotte Högberg, Stefan Larsson, Malou Larsson Klevhill, Jonas Ledendal, Bert Lehrberg, Anna-Sara Lind, Cecilia Magnusson Sjöberg, Rami Mochaourab, Panagiotis Papapetrou, Annina H. Persson, Marianne Rødvei Aagard, Santa Slokenberga, Magnus Strand, Markku Suksi, Katja de Vries, Annika Waern, Rebecka Weegar and Inger Österdahl.