Pris: 2428 SEK exkl. moms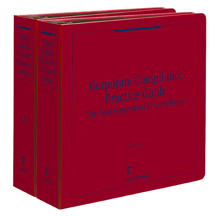 Corporate Compliance Practice Guide: The Next Generation
By Carole Basri, along with many leading contributing authors - a Who's Who of expert practitioners, compliance professionals and academics, including Commissioners from the U.S. Sentencing Commission

The new Corporate Compliance Practice Guide - The Next Generation is the first resource of its kind to address the new era of compliance issues and expectations triggered by the global financial crisis. Turn to this portable, quick-answer guide for expert insights into best practices for developing and maintaining compliance programs tailored to your client's or organization's industry, business, and culture - with specialized guidance for such practice areas and regulated industries including antitrust, securities, banking, healthcare, insurance and environmental.